Opening the world with Italian
A world opens with Italian
Florence is one of the major cities in Italy and is located in the north-central part of the country. Not only is Florence well known as the capital of Renaissance, but it is also the place where modern Italian language was born. ABC de' Conti is situated in the very heart of the city's historical center. The school building, conveniently located between the Duomo and St. Lorenzo church is a lovely structure that has stood in this spot since the 15th century, and this is where ABC de' Conti classes are held. The most unique school feature of the school is its broad variety of courses including those for students who want to learn everyday Italian conversation, advanced level courses for business training, training interpreters, as well as preparatory courses for the entrance examination to national universities, technical term for such fields as art, design, cooking, tourism business, and many others.
♦ Pick Up
News & Topics
Apply Now to ABC de' Conti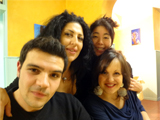 Let's learn Italian in the heart of Florence, Italy!
>>How to Apply
Lesson start date 2020 for beginner.
Jan. 7, Apr. 6, May 4, Aug. 31

*If you've studied Italian before, you can choose other schedule. Please contact us.
Apply now