Florence is one of the major cities in Italy and is located in the north-central part of the country. Not only is Florence well known as the capital of Renaissance, but it is also the place where modern Italian language was born. ABC de' Conti is situated in the very heart of the city's historical center. The school building, conveniently located between the Duomo and St. Lorenzo church is a lovely structure that has stood in this spot since the 15th century, and this is where ABC de' Conti classes are held language lessons employ the Direct Method, in which the target language is used in class, placing equal importance on conversation, grammar, composition, and listening.
 The teachers are all native Italians rich in teaching experience. The course is designed to provide students with a basis to communicate effectively in Italian in everyday, real life situations.
You can go Christmas shopping, do groceries in supermarket, visit market, using Italian that you have learned in the class…probably you can get some extra something! As you will learn Italian language while you live in Italy, you will acquire Italian skills even in a short period, and make your stay much more interesting.
Overview
What's so different about ABC DE' Conti's Christmas course?
Your satisfaction assured with studying and enjoying at the same time!
You can earn credit!
You can earn credit by taking 1 week or a longer course.
English language: Learn from native English-speaking instructors
Learn English while enjoying your visit to Florence, Italy. Our native English-speaking instructors make this unique and amazing plan possible!
Special welcome kit
With our special welcome kit (guide map of Florence, pen, notebook, file folder, bus pass or ticket), you can enjoy sightseeing Florence from the very first day.
Cultural Visits
Share the unique Italian experience with other students through visit to various interesting locations such as world's heritages, "Chianti Winery" and/or our unique "Pizza lesson".
Art Visits
Discover the great masterpieces of Italian Renaissance through guided art visits. Great experience to live and study in Florence surrounded by the treasure of history and art.
Meal and drink Vouchers
One meal voucher or one drink voucher provided everyday. Buon Appetito!
Variety of course duration
Choose your course duration from 1, 2, 3, 4 and 5 weeks.
Housing
Housing (twin room) is included in the fees. Enjoy your school life with new friends!
Course Detail
◆ Italian language Course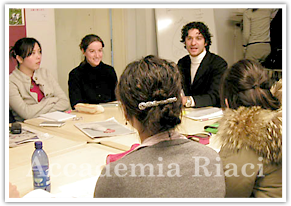 Don't you want to study Italian Language this Christmas while experiencing the rich culture and food of Italy especially for this season?
In this course, you get to learn basic Italian language using Direct method, practicing all factors (conversation, grammar, writing and listening) equally.
◆ English Language Course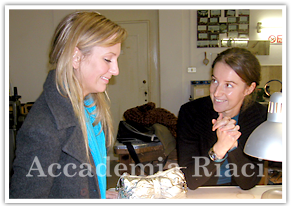 If you want to study English abroad, the best way is to enjoy learning it at the place you love and always wanted to visit! Located in the center of Florence, Italy, our English language courses will let you learn English from native English-speaking instructors.
Sample Schedule
Day
1 week course
2-week course
1st week
Sun.
Arrival in Florence
Arrival in Florence
Mon.
Orientation, Food Market Visit, Lesson
Orientation, Food Market Visit, Lesson
Tue.
Lessons
Lessons
Wed.
Lesson
Lesson
Thu.
Lessons
Lessons
Fri.
(AM) Art visit
(PM) Cultural visit
(AM) Art visit
(PM) Cultural visit
Sat.
Check out, Return Home
Free time
2nd week
Sun.
Free time
Mon.
Lessons
Tue.
Lessons
Wed.
Lessons
Thu.
Lessons
Fri.
(AM) Art visit
Sat.
Check out, Return Home
You can stay up to 5 weeks.
Please refer to the right for additional charge

*
*
The course schedule is subject to change without prior notice due to the school or the professor's problem. Please check the final schedule. For further details, please consult Accademia
Course includes
Enrollment Fee
Tuition(Italian or English language):
Small group lesson (15 lessons/week, 2 to 6 students) or Group lesson (20 lessons/week, 7 to 12 students)
Each lesson=45 minutes
Orientation
City Tour
Welcome Lunch
Welcome Kit (City map, pen, notebook, file folder, bus pass or tickets for lessons)
One meal or one drink voucher a day (may be replaced by a lunch gathering, cooking lesson or lunch box. No meal and drink voucher provided for housing-only period after the completion of your courses).
Weekly guided Art Visits
Cultural Visits (such as making pizza, gelato, and more. Once every 2 weeks).
Entrance fees to places of the visits we offer.
Housing in shared apartment (single room available)
Housing utilities expense
Not Included
Meal vouchers for housing extra stay
Flight tickets
Transportation costs not related to the lessons
Personal expenses
Optional
- Accommodation single room additional fee:
200 Euro for 1 week, 240 Euro for 2 weeks, 270 Euro for 3 weeks, 300 Euro for 4 weeks
- Airport sending (1-way from accommodation to the airport): 160 Euro
Example of Accommodation

Christmas Course 2017 Schedules & Prices
Inquiry -Christmas Course-